…and this version is now without avocado, which also makes a PERFECT chocolate mousse! If you don't know that yet, check out The Crocodile Mousse (in English later in this post). You might also call this more like a chocolate sauce or a pudding, but anyway: it's chocolate and it's ALMOST paleo. Only using the stevia (a root, natural sweetener) makes it a tad questionable.
Smooth Criminal
2 generous Tbsp tahini (sesame seed butter, you may also use raw almond butter, it's taste it more neutral)
1,5 dl coconut milk or cream
1,5 Tbsp raw cocoa powder
13 drops Vanilla Stevia
(optional: 1-2 Tbsp cashew flour (just grind it first in the blender))
Put everything in a blender and blend, adjust the sweetness by using stevia or some other form of sweetener. You may use raisins or dried fruit instead of stevia, but then you have to blend them first. If you want the mixture to be more like mousse, add tahini/almond butter. If you want it to be more like a sauce, you may add a little bit of coconut milk. Using some cashew nut flour adds a bit texture, but you may find it doesn't need it.
And it's ready. So easy. If you have the patience to let the sauce/mousse cool down in the fridge, it will settle a bit quickly. Eat as it is or use it in a raw cake or enjoy the sauce with some blueberries. Whatever works for you.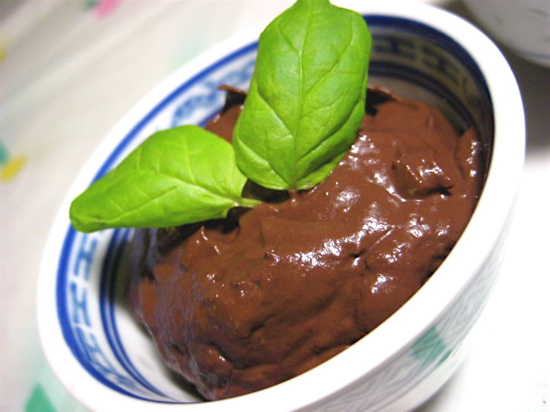 The Crocodile Mousse
1 ripe avocado
0,6 dl warm water
0,6 dl raw cocoa powder
0,5 tsp natural vanilla extract
0,5 tsp cinnamon
0,5 Tbsp lemon juice
Vanilla stevia or other sweetener of your choice
Cut the avocado in half, remove the stone and spoon the flesh into a blender. Add other ingredients and let it smooth out, then add the sweetener and adjust the taste according to your taste buds. You may add some flaxseed if you like to get some texture, but works beautifully without seeds as well. Velvety, delicious and just so very chocolaty.